We are pleased and proud to announce that Memory and Metaphor by Andrea Monticue is part of the SFWA "Space is Big" Story Bundle!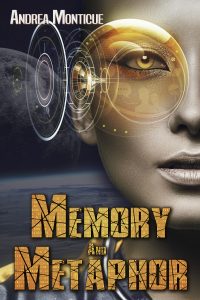 Civilization fell. It rose. At some point, people built starships.
A millennium after the Earth was abandoned to climate change and resource depletion, Sharon Manders wakes up in a body that used to belong to somebody else, and some say she was a terrorist. She has no idea how she could be digging for Pleistocene bones in Africa one day, and crewing on a starship the next. That was just before she met the wolfman, the elf, and the sex robot.
Struggling with distressingly unreliable memories, the expectations of her host body's family and crewmates, future shock, and accusations of treason, Sharon goes on the lam to come face to face with terrorists, giant bugs, drug cartels, AIs, and lawyers.
All things considered, she'd rather be back in 21st Century California.
Here is your opportunity to not only get Memory and Metaphor and 14 other terrific books for only $20, but also support the activities of The Science Fiction and Fantasy Writers Association (SFWA).